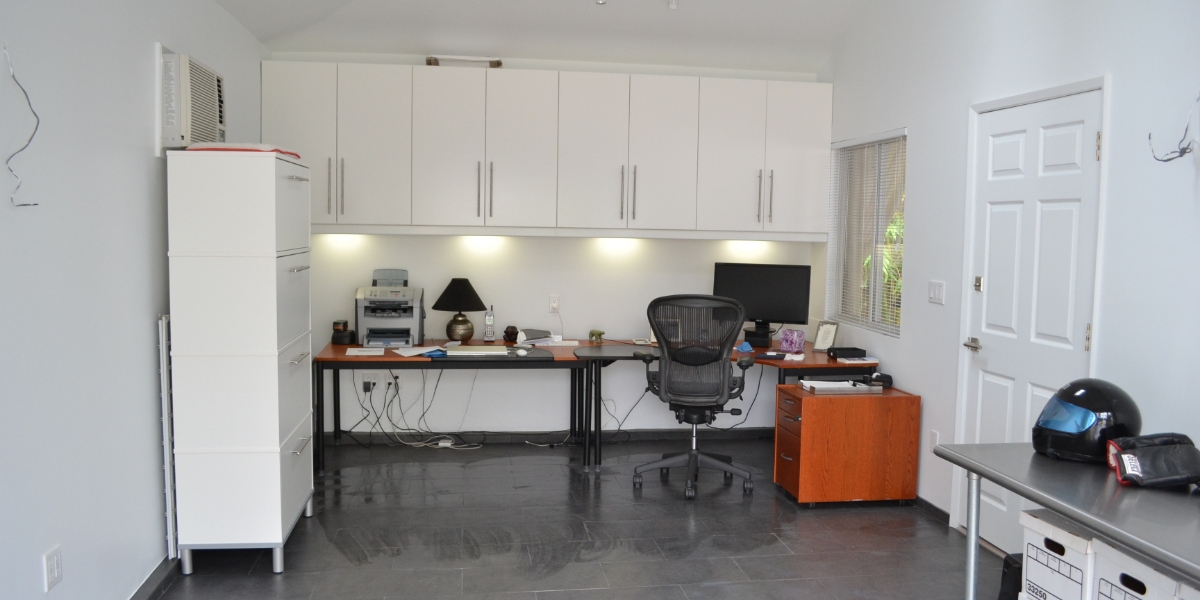 Garage Conversion Los Angeles (Garage Conversion to Home Office - Pacific Palisades)
Garage Conversion in Los Angeles
Los Angeles Garage Conversion
Garage Conversions come in all shapes and sizes. Our team of designers specialize in custom garage conversion and ADU's to fit the needs of our clients. Whether you need a home office, personal gym, entertainment room or converted living area we have the perfect solution for you. For this project we converted a half garage to make the perfect little home office. Give us a call today to learn how you can get started!
Very happy client here! We have a 600 sq. ft. detached garage that we had hoped to turn into a home gym/office/storage space. We also wanted to add a French Door out of the guest bedroom and a new pedestrian door from another bedroom.

After being discouraged with the exorbitant quotes from 3 design/build firms, my husband found Pearl Modeling and we decided to give it one more try. Their representative, Gal, first impressed us with his friendly energy and straightforward way of communication. We were blown away by the reasonable price he quoted us, and were excited to get started. He understood exactly what we were looking for and immediately helped us to come up with a comprehensive plan. We felt comfortable to add any input and details we wanted in addition to his expert advise on how to design the space. Throughout the process, Gal was in constant communication with us so we always knew when to expect the crew at our house and he answered any questions we had along the way (a great change from a previous contractor who rarely got back to us and ended up disappearing from a job). Our payment plan was also very clearly spelled out from the beginning. The crew members and project leader, Santiago, were all very friendly and professional whenever I had a question for them. And their work was expertly done and it looks like this is what our house should have looked like all along! We were very pleased that the budget didn't go up except for a couple of additional cosmetic changes we made and they even threw in a couple of "bonus" add-ons that they didn't charge us for.

From the fair price, excellent communication, and great final result, I am happy to recommend Pearl Modeling for your construction/remodeling needs!

- Catherine K. Los Angeles, CA
Get In Touch
Planning and budgeting right is always the key to a successful project. Garage related services for your home requires a lot of knowledge and expertise. Proudly serving Southern California for over 12 years, we promise an addition to your home that will last a lifetime.